Dear Angelica,
I wanted to thank you for the gift of your MESSAGES FROM YOUR ANIMAL COMPANION cards at INATS. I enjoyed them and found it to be a wonderful and creative idea for people to get more in touch with their furry and feathered companions. It is both practical and spiritual, and I am sure it will be very helpful to strengthening the relationship of owners with their pets.
Thank you so much again.
Blessings,
Ted Andrews
Author of Animal-Speak, Animal-Wise and more
"I did two sample readings this evening on my dog Dante, a 7 year old Anatolian shepherd. The first question I asked/thought to Dante was whether or not he was happy and content. The response card I drew from the deck said that Dante felt safe with me, and that I should feel safe with him because he will protect me. That's very interesting because Dante is a breed specifically designed to protect, but not to fight, and he will guard our bodies in certain situations.
I then did another shuffle of the desk to clear out the first question, and as I shuffled I asked Dante another question: Was he feeling well? I'd noticed he's been licking one leg a bit recently, not really a concern because he tends to have skin allergies and the leg looks perfectly fine. He also gets a little stressed, and we've got an unusually high number of cats in the house right now and that can get him overly-excited. The card I pulled for an answer featured a horse saying, "I have an ailment, injury, pain, or wound". Interesting. Of course you should never use any sort of "toy" to make medical decisions about your pets, and I would certainly take Dante to a vet if his random licking started to be damaging. In light of the card, however, it might be the extra push to get Dante to the vet this week instead of next week. I don't think there's anything hugely wrong, but I'd rather be an overly-protective parent than to let this go too long."
Leigh-Ann,
Director,
Wee Paws Animal Sanctuary
Las Vegas, Nevada
www.weepaws.org
"Angelica del Mar has developed a wonderful tool to facilitate communcation between animals and humans. I've verified her deck with my own animal companions as well as used them with clients. I have found them to be very accurate."
Wendy Wolfe,
Animal Communicator & Aromatherapist
www.wendywolfe.com
"I had the pleasure of discovering your cards and meeting you at SuperZoo in Las Vegas last month. (I also manage a pet supply shop) I purchased a couple sets of your cards for the shop and gave one to a friend, who loves them.
When I returned from Las Vegas I had to have my 16 1/2 year old dog euthanized. He had bone cancer and I was no longer able to control his pain. I used your cards to ask him if it was time for him to leave us...the answer was yes. I have also used the cards since to ask him if he is in a better place.
I cannot relate to you in words how comforting the cards have been for me.
This past week, the friend I gave the cards to, lost her cat unexpectedly to congestive heart failure...I know she will find comfort in the cards."
DeAnna Haase,
Portland, Oregon
"These cards were sent for me to review, and I have to confess, I thought 'Ho Hum, one more deck of cards...' I opened the deck and the fun started, these cards are very sturdy and laminated, the cover illustration is nice, and the individual cards are illustrated nicely, with the 'meaning' of the card printed on each one, simplifying the process of learning to use them immensely. I'm not a tarot reader, don't use cards for readings, etc., and the next thing I did was take them to a skilled tarot reader for HER assessment of them. We both had a LOT of fun with these cards, and I anticipate enjoying them for years to come. If you have pets of any kind, have any curiosity about what they are thinking and feeling, you will find these cards an excellent tool to enhance your relationship."
Gia Scott
Host, Dawn of Shades, Internet Radio Program
www.giascott.com
Hi Angelica,
I got a deck from Rene' at Happy Tails. I must tell you that the readings I did with them were uncanny. I had two people actually tear up because what the cards indicated to me were so true to the situations they were going through with their pets. It was quite moving. Funnily, the bad smell card came up twice with two different people. The first person couldn't figure out what that might indicate or so she said, but the second person looked blank for a second and then said, "Oh my goodness, yes, we have a mouse in our house and the smell is driving us all crazy." So from the very heartfelt readings to the rather mundane everyone seemed to get something out of them. I had decided to breed my bullmastiff girl one more time and I did a reading on her. The cards that came up were tummy ache and yes. Pretty amazing!!! Thanks for giving us this lovely set of communication tools. I will enjoy using them for my various rescue functions and my own personal use. I am looking forward to my next reading session. Your cards made it fun and totally stress-free.
Sincerely,
Carol
TwyceLuvd Bullmastiffs and Pugs
Portland, OR
I am writing to share with you a deep sadness I am experiencing right now and to let you and others know what a comfort your cards have been to me as a farm animal rescuer.

Reta was a 3-year-old Holstein cow who I became very attached to and concerned about at the farm in my area that became the catalyst for my rescue work. She died following complications from a persistent mammary gland infection all too common among dairy cows. Reta was a gentle soul who I visited often. When she first arrived at the farm, she was often excluded by the other cows from their established group. As the other cows knew me, I thought that by my talking to Reta and demonstrating to them acceptance of her, they would soon do the same.

Reta came to the farm in 2006, purchased from another farm. She gave birth to two calves, Boo and Luna. Reta was used for public milking demonstrations at the farm. When Reta suddenly passed on, I communicated with her with Angelica's cards. I wanted to know how she felt about leaving here, and I got the "It's Time" card, which says that it's time to move on to heaven, and that she appreciated our time together and we'll always be together in spirit.

I also asked her what I can do for her now. I got the "Celebration" card. While it doesn't excuse the many questions about her situation, she wants a focus to be on celebrating her life, and while she is going to miss her kids, she is now free from her life that was one of forced servitude.

I'm going to miss her, but she's free now. I know she wants the others to be protected, especially her own kids, Boo and Luna, who may be the next up for breeding. I also communicated today with Reta about her daughters, Boo and Luna. I got the Special Touch and Water cards. I know that Reta wants me to pet Boo and Luna like I did her, and I think that the water card has to do with Boo and Luna no longer getting their mother's milk, and perhaps not drinking enough water from the trough.

I don't think that the situation had to turn out like this. She was only 3 years old, and she was being milked consistently from the time she gave birth to Boo, who she had when she was only a year old herself. Now she had Luna, too, just over a year after having Boo. I think the mastitis infection becoming so out of control might have been avoided if she hadn't been used for milking demonstrations, also. Her gentle nature made her easy to work with, and such a nature often works against farm animals when they're wanted for situations where they're going to be handled frequently. On the other hand, when they're not easy to work with, they're often then targeted to be sold for slaughter. Either way, they often get taken advantage of.

As farm animals are often used in this country as commodities in ways that domestic animals aren't, there are far more different and difficult aspects involved in their protection and rescue. There is far less recognition of them as living beings with feelings, and far less respect for their lives. Beyond that of domestic animals, farm animals are often only deemed valuable based on what their contributions are to human desires.

Angelica's communication cards serve me well as an ongoing way of enhancing my own intuition when it comes to animals who I have the responsibility and privilege of caring for, and those animals in the care of others who I have also taken on the responsibility and privilege of protecting. As rescue and continuing care often involves animals in a distant location, the cards provide an ongoing source of information and comfort for me and for the animals that are my mission to protect.

Debby Rubenstein,
Wagner Farm Rescue Fund

Dear Angelica,
I became particularly concerned about my cat Sealy who left home two weeks ago when I heard that another
friend's cat had died. This was a real wake up call for me. I really needed to know that Sealy was OK. I needed to know what happened to him and why he left. Then, I talked to you Saturday and you suggested I do a reading with your deck.
I didn't feel ready to do a reading until two days later. I believe I had a lot of information and emotions to process before I was ready for a message. I believe Spirit didn't direct me to your cards until last night.
I tell you, they made me feel so much better about my missing cat, Sealy. I followed the directions on the instructions card and it gave me the information I needed just as you said it would.
The card that came up was the "Its Time" card. It's time to leave and maybe, to Heaven, and perhaps we will see each other again somewhere. It is so right in my heart. And I thank him for the time he was with me, especially in the early years of aloneness.
God bless you for your cards,
Valerie Rogers
Intuitive Artist and Teacher
A priestess friend of mine bought the cards, She thought at first they were cheesy so she put them aside. Then her dog got sick - pancreatitis and a month's worth of medical attention brought a month's worth of misdiagnoses and treatments. He was home one night and crashed in pain. She broke out the cards and asked them what was going on and he told her that he had to go back to the doctor. The day before Samhain dinner he returned to the doctor and had a good prognosis. He was supposed to come home Monday morning at 11 am.
She picked another card and she picked the one that said it was time to go. At that time we weren't all together worried and she chalked it up to cheesy cards again.
That Monday morning she received the phone call from the doctor's that it was time to euthanize him. They couldn't make him comfortable anymore and they couldn't fix his bowel with the tumor in the way. He was 13 years old and was too old for surgery.
I think she will be keeping the cards after all. Originally she was going to give them away as a gift, But I do believe she's changed her mind.
See.. you can teach an old dog new tricks.
Angela Blackley
Herbal Magick inc
Lockport,NY
www.herbalmagickinc.com


"Angelica, you are an Angel! Thank you so very much for all the Animal Communication Readings you so graciously did for us at The Lunar Coven, you were "spot on" and we are all so inspired by your creativity in creating an Oracle deck like this one! You go gurl!
Love and Bless Bless,"

Jacquie DuBois


"They work, Angelica! My cat was in need of getting his nails clipped and extra hands on loving last night, and those were the cards for him. He and I work together communicating all the time. His name is Willie. He also helps me do communication (& Reiki healing efforts) with other animals in need. He is my beloved assistant. My fish gave me information that I need to consider for them too. What fun."

Ginny Jenkins
Reiki Master/Teacher
Specializing in healing animals of all kinds from calves to Cockatoos
Downingtown, PA



Greetings Angelica,

I just wanted to take a minute to send in a testimonial about the deck. I am a Transpersonal Hypnotherapist and Licensed Minister from Virginia, with an extensive background in animal care and communication. I purchased the deck at Delphi University in Georgia while attending a class in channeling for humans. A fellow classmate, knowing where my true gifts lie, pointed out the deck to me in the gift shop. Now, I must preface this with the fact that every time I try to hone my intuitive skills for the human population, The Universe always throws me a reminder on whom I really need to focus.

From the first time I used this deck, my accuracy on distance readings has been flawless - so much so that I have decided to expand my animal communication offerings to include Distance Sessions, not just in-home!

The deck has been priceless to me.

Thank you so much!
Blessed Be,
Melissa Kepley, D.Div., C.Ht.
Transpersonal Hypnotherapist
Transformations Hypnosis and Healing Center
www.transformationshypno.com



I just recently had an amazing experience with them (I bought a deck from Ethical Planet). I was very upset about my cat- he had an infection due to some teeth problems and we had to do some blood work. We were worried that the problems were more severe and it was a long day waiting on the test results. The night before the results were due, he snuggled up by me and the cards were sitting right by us (I was going to use them earlier, but hadn't). I was upset and my boyfriend suggested we let him pick a card. I kid you not, the card that came up told us that something was wrong with his mouth…and as it turned out, that was all that was wrong..he's as healthy as a cat half his age (now with a few less teeth I'm afraid. :) But I have to tell you, that was an amazing experience and I think it put us all at ease. So thanks for that- we all appreciated it!! :)

Melissa Patricelli
Heartland Animal Shelter Volunteer


I was at the Edge Life Expo in Minneapolis last weekend and fell in love with your Animal Companion cards displayed there! All I can say is, "Wow."

Funny story. One of the booth owners displaying your "Messages From Your Animal Companion" Oracle Deck has two kittens back in California. They've been dragging her clothes around the house while she's been gone. When she did a fast reading, she drew the "forgotten" card meaning the kittens were feeling... well... forgotten.

Me? I have two dogs. When I drew Rudie's card (my little puppy) I got the "I need to be groomed" card. "How silly," I thought, "She's a short hair. Never needs a bath. Guess the reading didn't work for me." Yeah. Right. I got home and she'd gotten into something really stinky...needed a bath.

How cool, eh?

I just wanted you to know how much I'm enjoying the cards. You did a fabulous job.

Best,
Beth (from Minnesota)

I just used Angelica's cards for my neighbor ... over the phone. He was riding with a friend and her horse this morning, and his horse suddenly decided it was time to stop, turn around, and go home. He was wondering why his horse did that. As he was telling me this by phone after he got home, he said he could see his horse from the window. So I said, "Ask him why, and I'll use my card deck..." and he did. The 'unbalanced workload' card came up. The horse is older, a 'rescue', and only recently has begun not being very happy about being ridden. So now my neighbor is "going to think on that". And because he is very caring, I know he will do something helpful and appropriate for his horse.
Thank you for these cards,
Randi Peters
Leesport, PA
www.naturalhorse.com
Dear Angelica,
Your cards really work! I used them a second time to check on my kitties, and again it said that Orca was sick. Next thing I knew, he was diagnosed with bladder crystals, not uncommon in male cats. He has been in the kitty hospital for a couple days now, and he's pretty bad off. He would have died if we didn't get him there when we did. He's going to be fine, and your cards let us know there was an urgent matter. Your cards are a blessing! I hope everyone in the world has an opportunity to use them.
Christine Breese,
Founder, University of Metaphysical Sciences
www.umsonline.org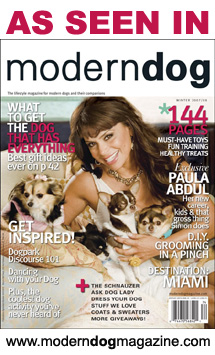 Staff "Stuff We Love"
"Pick of the Litter"
Featured Item
Winter 2007/2008